Aloha from Hale Kua ~ an Ocean View Kauai Bed and Breakfast
Located on Kauai's sunny South Shore
Minutes from Kauai's world-famous Poipu Beach and historic Old Koloa Town
| | |
| --- | --- |
| | Hale Kua Bed and Breakfast |
| | |
| | |
| | |
For information about Hale Kua Kauai bed and breakfast or to make a reservation:

Toll Free: 800-440-4353 or on Kauai: 808-332-8570
or fill out our online Bed and Breakfast Inquiry Form

NEW! Updated Virtual Reality Tours of our B&B units!
Choose a unit below to view each virtual tour
Aloha from Hale Kua Kauai Bed and Breakfast
We invite you, with Aloha, to be our guests on the lush tropical "Garden Island" of Kauai. Imagine all the benefits and hospitality of home with the comfort and convenience of your own private tropical setting. Hale Kua Bed and Breakfast offers it all with our beautiful, completely furnished and well appointed accommodations.

Conveniently Located on Kauai's South Shore

Located on the sunny South Shore of Kauai just minutes from Poipu Beach, our secluded hillside bed and breakfast offers peace and serenity in one of our five choice accommodations. All are private and completely self-contained, with many thoughtful amenities.

Choose from our private vacation cottage or Gardenia Unit, or perhaps our one bedroom Banana Patch unit or Taro Patch unit located on the first floor of our secluded "Hillside TreeHouse". For those who need a bit more space, we offer our three bedroom "Coral Tree", located on the top floor of the "Hillside TreeHouse". All units accommodate 4 people, with the larger Coral Tree vacation rental accommodating 6.

The breathtaking panoramic views from these South Shore Kauai vacation rentals extend from the ocean to the south, along the rolling pastured hillsides of Lawai valley, to the majestic peaks of Mount Kahili to the north. It is a place of unparalleled tranquility and lush beauty.
Your Kauai Honeymoon
Honeymooners delight in the privacy and beauty that Hale Kua has to offer. We provide the perfect setting in which to start your married life with peace and privacy. Many also enjoy the celebration of a special anniversary or to renew their treasured wedding vows.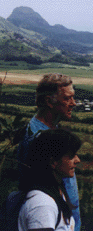 Your Hosts at Hale Kua Kauai Bed and Breakfast
Your Hosts, Bill and Cathy Cowern, moved to Kauai from New Hampshire. In addition to enjoying "talking story" with their guests, they are very active in agriculture on Kauai. Their beautiful 8 acre property is a developing tropical timber arboretum, graced with many species of tropical fruit and flowering timber trees. Part of their vision is to create a biodiverse tropical forest complete with trails and species identification.
Reasonable Rates, Quality Kauai Accommodations
For the value conscious traveler, we offer very reasonable bed and breakfast rates while maintaining high quality accommodations.
View Hale Kua Kauai Bed and Breakfast's Guestbook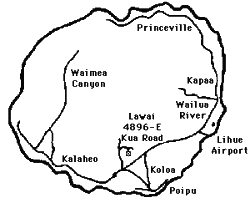 Map of Kauai, Hawaii


Sehen Sie die DEUTSCHE VERSION
For more information about Hale Kua Kauai Bed and Breakfast:
Toll Free: 800-440-4353
On Kauai: 808-332-8570
Online Inquiry Form
Visit Kauai Vacation Tours for Discount Kauai Activities
Visit Bubba Burgers on Kauai


Hale Kua B&B
Kauai Hawaii
P.O. BOX 649 ~ 4896-E Kua Road
Lawai, Kauai, Hawaii 96765


Hale Kua Kauai Bed and Breakfast is a member of:

Poipu Beach Resort Assoc. - Bed and Breakfast Co-op




Entire Contents Copyright 1995 - 2012 Hale Kua Kauai Bed and Breakfast